CyberSpace Freedom™ Series
ISDN Access Cards
---

CyberSpace Card

---
the Interface to Cyberspace ™
Installation Manual for Windows NT Systems

PO Box 3000
San Gregorio CA 94074 USA
Tel: 650-712-3000
Fax: 650-712-3003
E-mail: info@isdntek.com
Web: http://www.isdntek.com
---

CyberSpace Freedom Series Installation Manual for Windows NT Systems
03/01/98© Copyright 1998 ISDN*tek, Inc. Printed in U.S.A.
All rights reserved. ISDN*tek grants these rights to users of the ISDN*tek product for the customer's use in the normal operation and maintenance of the product. No part of this publication may be reproduced, stored in a retrieval system, or transmitted, in any form by any means (electronic, mechanical, photocopied, recorded, or otherwise), in instances other than those intended, without prior written permission from ISDN*tek, Inc.
CyberSpace Freedom, CyberSpace Card, CyberSpace Machines, "the Interface to Cyberspace", PC*TE, CyberSpace Internet, CyberSpace Commuter, CyberSpace Enterprise, and ISDN*tek are trademarks of ISDN*tek, Inc. 5ESS is a trademark of AT&T. IBM/PC/XT/AT are registered trademarks of International Business Machines Corporation. Windows is a trademark of Microsoft Corporation. Chameleon and NetManage are trademarks of NetManage, Inc. InterRamp is a trademark of Performance Systems International, Inc. All other product names are trademarks of their respective owners.
ISDN*tek assumes no responsibility for the use of any circuitry other than circuitry embodied in ISDN*tek products. No other circuit patent licenses are implied.
Information furnished by ISDN*tek is believed to be accurate and reliable. However, no responsibility is assumed by ISDN*tek for its use, nor for any infringements of patents or other rights of third parties which may result from its use. No license is granted by implications or otherwise under any patent or patent right of ISDN*tek. Further, ISDN*tek reserves the right to revise this publication and to make changes from time to time in the content hereof without obligation to notify any person or organization of such revision or changes; and ISDN*tek makes no commitment to update the information contained herein.
For more information see Copyright, Trademark, Patent & Warranty Information in Appendix C.

---
---

Table of Contents


---
Chapter One - What You Need
Computer Requirements
Internet Software Required
ISDN Telephone Requirements
How to Order Your ISDN Line
Chapter Two - Install Software
Setup Software ISDNtek.exe
Chapter Three - Installing Your CyberSpace Card
Installing your CyberSpace Card

Four Common Memory Address Switch Settings
Typical IRQ Assignments
S/T Termination Resistors
The PC
Power Up Systems
Handset/Headset for Voice
Chapter Four - Installing Components Under NT 4.0
Installing Network Components
RAS Installs ISDN*tek Adapter
Chapter Five - Setup Dial-Up Networking
APPENDICES
Appendix A - Hardware Specifications

General Board Specifications
Computer Requirements
Electrical Specifications

Appendix B - FCC Statement

Appendix C - Limited Warranty and Copyright Information
---
Chapter One
---

What You Need

---
Computer Requirements
386+ compatible computer with ISA or EISA slot (33 MHz or faster recommended) for the low profile, half-length Card.
EGA, VGA, or better, graphics monitor
Mouse that is functional in Windows.
Windows 3.1+, WinOS/2 2.1+, Win95, or NT
Card takes 4K RAM in memory (switch selectable) and one interrupt (jumper selectable).
Other Software/Hardware Requirements
Use a WinISDN or RAS/WAN-based HDLC TCP/IP stack from various software vendors, such as NetManage, FTP, Shiva, or Microsoft.
Standard analog telephone handset or headset for voice cards.
The ISDN Telephone Requirements
ISDN Line from your telephone company's National ISDN-1 (NI-1), or AT&T 5ESS (5E6+), or Northern Telecom DMS100 (BCS34+), or Siemens EWSD (APS 10+) switch.
2B+D Basic Rate Interface with voice and data.
If not purchasing the "Plus" product, you will need a Network Termination unit (NT1) with S/T interface. Order this from ISDN*tek, your phone company, service provider, telephone equipment supplier, or computer integrator.
How to Order your ISDN Line
Your local phone company may use switching equipment from AT&T (5ESS), Northern Telecom (DMS100), or Siemens ( EWSD). The phone company will configure your line based on their central office (CO) equipment as well as your terminal equipment (TE). Your CyberSpace card (TE) will automatically work with all of that equipment without any special configuration on your part. However, it is important to provide the phone company with the template on the next page.
Pacific Bell has extensively tested the CyberSpace cards and has come up with a template for their engineers to use in programming ISDN lines for the CyberSpace products. Other telephone companies may also find this line translation information helpful. We are reprinting that table for the convenience of your telephone company service representative. When you call your telephone company's ISDN order department, give them the information provided in the template.
When your line is installed, the phone company will provide you with your telephone (Directory) number and your Service Profile Indentifier (SPID). You may receive one set of numbers or two sets, depending on your telephone company's equipment. Record this information, as you will need it later for hardware and software setups of any ISDN equipment that you install.
Directory#1 ____________________________________
SPID#1 ____________________________________
Directory#2 ____________________________________
SPID#2 ____________________________________
ISDN*tek CyberSpace Card Line Configuration Template

5ESS
(B-Channels for CSV and CSD)
(D-channel for signalling only)
# channels for CSV
# channels for CSD
Terminal Type
# of Call Appear
Display (Y/N)
Prefer Ringing/Idle
Autohold (Y/N)
Onetouch (Y/N)
EKTS
Multipoint

NI-1


2
2
A or D
N/A
N/A(Y)
N/A
N/A
N/A
OFF
YES

Custom


2
2
A or D
1
N/A(Y)
I
N
N
OFF
NO

DMS-100
(Voice and Data for each B-channel)
(No D-channel packets)
Functional Signalling
PVC Protocol Version
Dynamic TEI
Max# Programmable Keys
Release Key (N/Key#)
Ringing Indicator (Y/N)
EKTS (Y/N)
CACH(Y/N)

NI-1


Y
2
Y
N/A(3)
N
N
N
N

Custom


Y
1
Y
N/A(3)
N
N
N
N

EWSD
(Voice and Data for each B-channel)
(No D-channel packets)
Terminal Type
EKTS (Y/N)

NI-1


Class 1
N
Other Ordering Options (not required)
This section is purely optional. In addition to using the previous Line Configuration Template, you may also choose your own line configuration based on your current needs, economics, or future requirements, since each telephone company may bill differently for each group of options. The following capability sets are compatible with ISDN*tek equipment and may be viewed as alternative options for ordering your line. ISDN*tek recommends choice "M" for the most flexibility, which is the default selection for the previous Line Configuration Template.
NIUF Capability Sets for Ordering ISDN for the CyberSpace Card
NIUF    Cyber   # of    Chan      Typical Use
Code    Card    Chan    Type      Description
-----   -----   -----   -------   ------------------------------
B.      I       (1B)    CSD       64K Internet access (data only)
C.      I,C     (1B)    CSVD      64K Internet OR voice
G.      I,C     (2B)    CSD+CSV   64K Internet AND voice (best
                                    choice for 64K Internet and POTS)
I.      I       (2B)    CSD+CSD   64K or 128K Internet (data only)
J.      I,C     (2B)    CSD+CSVD  64K Internet and voice, OR 128K 
                                    Internet (Good choice for 128K
                                    Internet and sporadic POTS)
K.      I,C     (2B)    CSD+CSVD  same as J but wih some calling 
                                    features that are not used by 
                                    the CyberSpace cards.
L.      I,C     (2B)    CSD+CSVD  same as K but with EKTS for an ISDN 
                                    telephone set with programmable 
                                    feature keys.
M.      I,C     (2B)    CSVD+CSVD 64K data and voice, OR 128K data, 
                                    OR two voice lines (best choice 
                                    for the Commuter Card and the 
                                    most flexible choice for the 
                                    Internet Card with POTS)


Definitions:
I = Internet Card (The Internet card will work wherever the Commuter card works, but ignores voice features)
C = Commuter Card (The Commuter card DATA feature will work wherever the Internet card works, but voice may not be supported by the Internet line configuration.)
1B = one B-channel
2B = two B-channels
CSD = Circuit switched data on the B-channel
CSV = Circuit switched voice on the B-channel
CSVD = Alternate voice OR data, on demand, on the B-channel
EKTS = Electronic Key Telephone System, which is a phone with intelligent keys and dialing features normally found on a business phone. Most ISDN phones were designed for businesses and take advantage of EKTS features.

POTS = Plain Old Telephone. There are special NT1s that will support your analog equipment - such as fax, modem, and analog phone. POTs in this table refers to use of those NT1s.
---
Chapter Two
---

Install Software

---
Setup Program
BEFORE installing the Networking in NT4.0, run the isdntek.exe that shipped with your CyberSpace board.
The ISDNTEST install/test program provides configuration assistance for your ISDN*tek CyberSpace Card. There are many systems that must work together to provide you with a seamless interface to CyberSpace, and this card sits squarely in the middle. For this reason, it is important to check each interface at every step of the installation.
System Requirements for Install/Test Program:
ISDN*tek's CyberSpace Card. PC-386 or higher with 640K memory.
EGA, or better, graphics monitor.
Hard Disk.
Mouse.
Windows 3.1 or greater, Win95, Windows NT, or Win-OS/2.
Note: This installation and test software may have been distributed in compressed format.
IMPORTANT: When running the installation program ISDNTEK.EXE, be sure to choose the DLL installation option. The default VxD driver installation WILL NOT WORK in Windows NT.
From the Windows Program Manager, select Run, and enter A:ISDNTEK.EXE to auto install from the distribution diskette. The following programs and files will be decompressed and copied to the directory that you specify in the installation procedure.
DDEML.DLL Visual Basic Support
DIALER.EXE Voice Dialer for Commuter Card
DIALER.TXT
GRID.VBX
ISDN.VBX
ISDNTEK.DLL ISDN*tek ISDN Specific Driver
ISDNTEST.EXE Program to Test Board and Line
ISDNTEST.TXT Documentation
ISDNUTIL.EXE
SETUP.EXE Driver Installer
SETUP.INF
SETUPKIT.DLL
VBRUN300.DLL Visual Basic Run-Time DLL
VWININST.TXT
VWINISDN.386 VxD-Based ISDN Driver
VWNISDN.D16 DLL Helper for VxD Driver
WISDN32.DLL
..\NT 3.51

ISDNTEK.SYS NT ISDN Driver
NTRASINS.TXT
OEMNADIT.DLL
OEMSETNT.INF

..\NT 4.0

ISDNTEK.SYS NT ISDN Driver
OEMSETNT.INF
OEMNADIT.DLL
OEM40SET.DOC

..\WIN95

ISDNTEK.INF
(Requires MSISDN_PAK 1.1 or WSOCKUPD.EXE and MSDUN12.EXE)
ISDNTEK.SYS Win95 ISDN Driver
WIN95RAS.TXT
IMPORTANT: Two files required by some applications are not included on the installation diskette. They will be created when you run the ISDNtest program:
ISDN.INI Initialization File
WINISDN.DLL Hardware Driver
The ISDNtek.exe self-extraction program writes all files to a temporary location on disk. A setup program is automatically invoked to allow you to choose a destination subdirectory and to install or un-install the VxD or DLL drivers. The default VxD installation is recommended for all but NT and OS/2 users.
The 32-bit VxD-based ISDN Driver (vwinisdn.386) is the default at installation, and in addition to allowing simultaneous use of Dial Up Networking and WinISDN-based applications, it is ShivaPPP approved for communicating with the LanRover on a Novell network from Win 3.1x and Windows for Workgroups (WFW) machines.
An NT subdirectory is created containing Drivers for NT machines. ISdn*tek currently supports Windows NT version 4.0.
After installing the files, reboot Windows, select the Test ISDN Hardware icon or run the ISDNtest.exe program to configure and test your ISDN hardware.
---
Chapter Three
---

Installing Your CyberSpace Card

---
CyberSpace Card Hardware Settings
SW1, the 8-position DIP Switch, sets the segment address. The boards are factory set as shown, setting the memory segment to D000h. If your system's resources for the factory settings are already allocated to something else you will need to change the switch settings. See below for more details.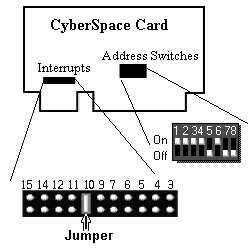 The interrupt is set using the IRQ jumpers at the bottom of the board. The default setting is IRQ10. Change the jumper if you need to allocate the IRQ to a different setting -- that is if your system resources for IRQ 10 are already in use (See NT Diagnostics in Administrative Tools for available resources). Typical IRQ assignments are listed below. Make a note of your IRQ settings, you may need to enter in this information later.
Four Common Memory Address Switch Settings
The full range of Memory Addresses from 0000 to FFFF are available to the board through switch settings. Four are shown: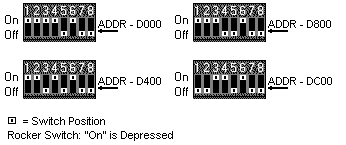 Change the switch settings if you need to -- that is if your system's memory resources for the factory default settings are already in use (for available resources, see NT Diagnostics in Administrative Tools). Make a note of these settings, you may need to enter in this information later.
Typical IRQ Assignments
Below is a table of typical IRQ assignments. Check for possible conflicts before assigning an IRQ to your CyberSpace Card.
IRQ0 System Timer
IRQ1 Keyboard
IRQ2 System Interrupt
IRQ3 Com2
IRQ4 Com1
IRQ5 LPT2 or Spare Slot
IRQ6 Diskette Drive
IRQ7 LPT
IRQ8 System Real-time Clock
IRQ9 Spare Slot
IRQ10 Spare Slot
IRQ11 Spare Slot
IRQ12 Mouse
IRQ13 Math Coprocessor
IRQ14 Fixed Disk controller
IRQ15 Spare Slot
S/T Termination Resistors

The CyberSpace boards with an S/T-interface provide100 ohm termination resistors that are preset with jumpers on W3 and W4 near the phone jack. Removing the jumpers will remove the resistors from the circuit. These jumpers will generally remain as set on the board unless additional equipment is on the same phone line. The CyberSpace+Plus boards, with a U-interface, do not use termination resistors.
The PC
Turn off all Power to machine and unplug from wall power. Remove PC cover to expose the ISA-bus. Carefully install the CyberSpace Card in any empty PC-AT slot. Plug Telephone (8-wire) cable into the RJ-45 socket on the board if using the CyberSpace Card; or plug standard 4-wire cable into the RJ-11 socket on the card if using the CyberSpace+Plus Card with onboard NT1. Plug a Handset/Headset into the smaller jack on the CyberSpace Card if your card includes a voice feature. Replace cover on PC.
Power up Systems
Plug PC into power source. Turn on PC. It should boot up normally. Plug the loose end of the telephone cable into the S/T socket of your NT1 (or directly into the wall jack if using the CyberSpace+Plus Card with onboard NT1).
Handset/Headset for Voice
For voice applications, the Commuter Card has a standard 4-wire jack for a handset or headset. Generally, the handset from your existing analog phone should work just fine. Headsets are available in a wide variety of styles, and most of them include a volume control for comfort and aural safety. Not all headsets will work with the CyberSpace Commuter card, so ISDN*tek will be publishing a list of compatible types on it's homepage at http://www.isdntek.com.
---
Chapter Four
---

Installing Components Under NT 4.0

---
Installing Network Components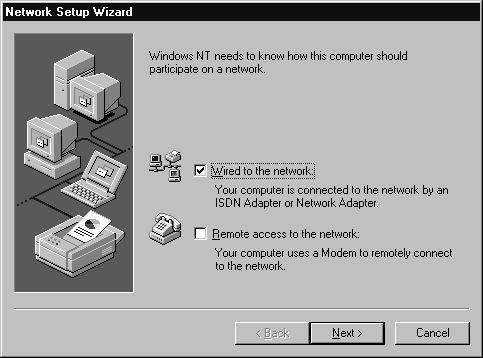 This Network Setup Wizard above is the final screen shown as you finish installing NT 4.0. It is also the first screen you get when bringing up the Network icon under Control Panel to begin installing Network components.
NOTE: If networking is already installed on your machine, you will NOT get the Network Wizard screens above and below. Instead you will get a networking screen with multiple tabs that show what components are installed. In this case, select the Adapters tab, and add the ISDN*tek adapter as shown on the second screen below.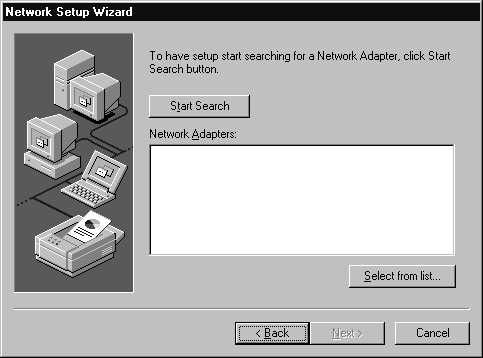 Click on "Select from list" which will display a list of adapters (below). DO NOT choose ISDN*tek from the list, since you will need to install the latest drivers you received from ISDN*tek. Instead, install drivers from your disk.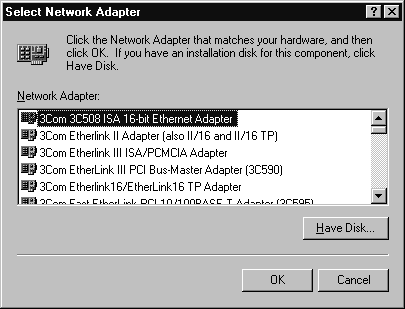 Select Have Disk.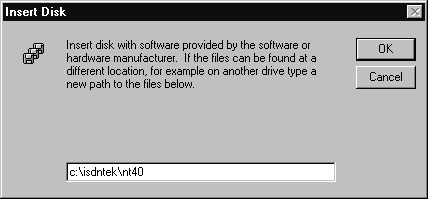 You will be directing the search to a subdirectory created when the file isdntek.exe was run. The default path is C:\isdntek\nt40.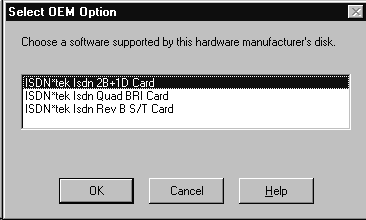 After installing from the disk, an interim screen will list available ISDN*tek adapters.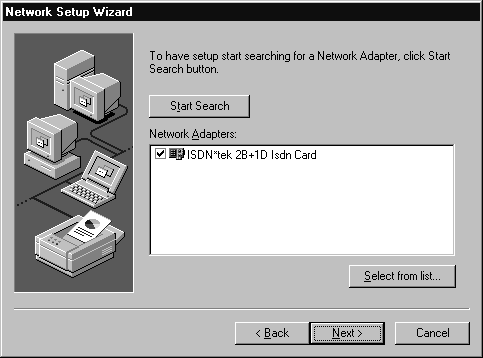 After choosing from the list you will be returned to the following display with your chosen ISDN*tek adapter now listed.
Click Next. This begins the protocol Setup.



Most users select TCP/IP Protocol (LAN users might select NetBEUI).
Click Next.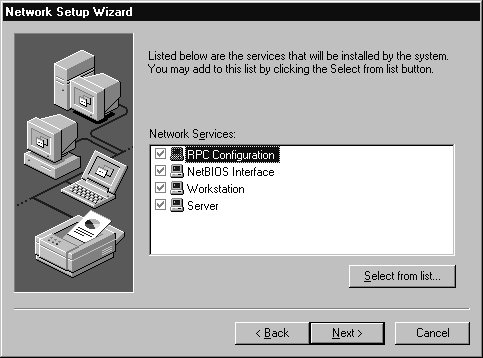 The Network Setup for ISDN requires that the main RAS Service be added.
Click Select from list.

NOTE: For existing network installations, you can check under the Services tab to see if Remote Access Service has already been installed.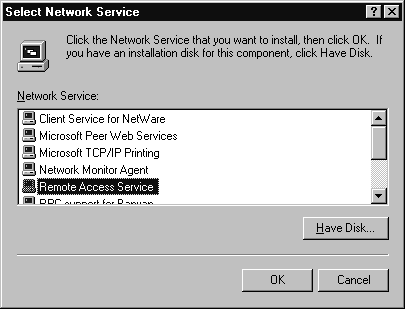 Highlight Remote Access Service.
Click OK.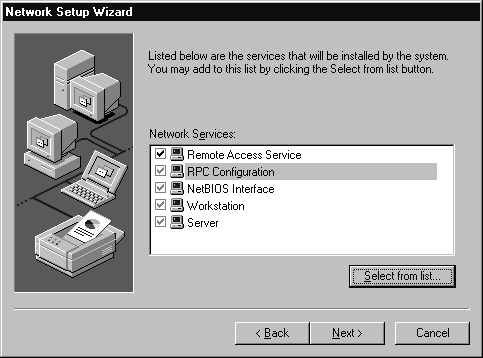 RAS has now been added and your screen of services will now include Remote Access Service as shown here.
The first phase of network installation is now complete.
Click Next.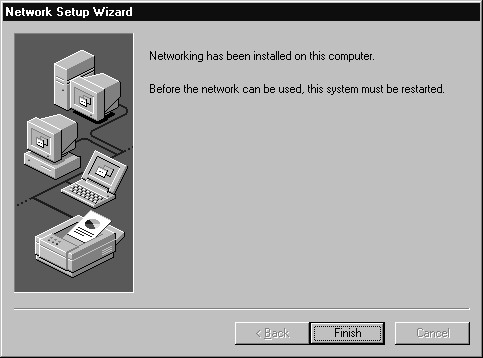 Click on Finish, but DO NOT RESTART the system at this time. You have completed the data entry and NT now copies some files from disk or CD and launches the Remote Access Services and Adapter installation process.



RAS Installs ISDN*tek Adapter
Now RAS begins to install the ISDN*tek adapter: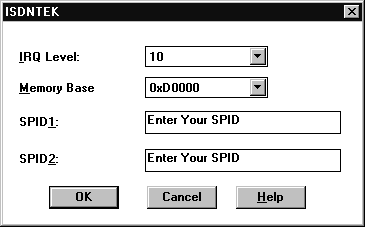 IRQ 10 and Memory Base 0xD0000 are the physical default settings on the board and also software defaults, set in the oemsetnt.inf file.
Enter your SPID fields. If necessary, change default IRQ and Memory settings here.



0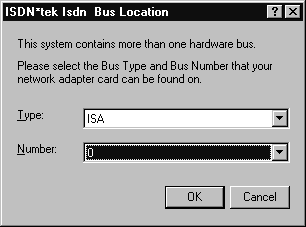 The bus settings shown here are correct for almost all users.
Click OK.


The next screen (not shown) allows you to add the ISDN lines to RAS. You must choose at least one line, ISDN1 or ISDN2, and select Add. After adding one or both lines, continue to the next screen which will display the ISDN lines that have been added to RAS.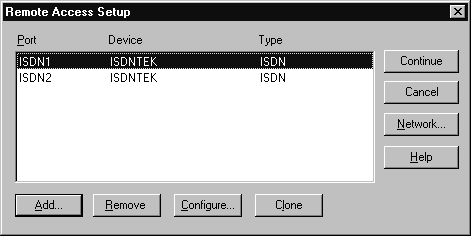 After adding ISDN lines, the RAS screen will appear as seen here:
Now select ISDN1 and click Configure.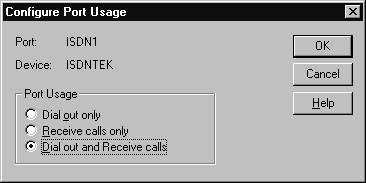 Change the default ISDN1 line configuration to Dial Out as well as Receive calls. ISDN2 should be left in the default Dial Out only.
Click OK to return to the previous screen.
Then click Continue.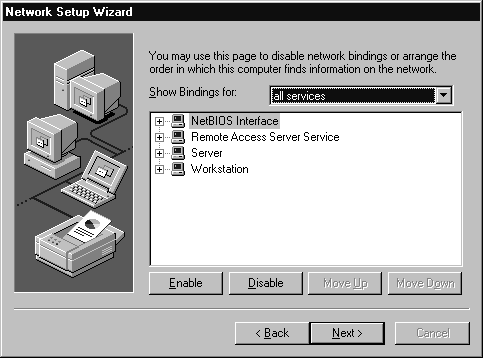 Click on Next until the installation finishes.



NOTE: For existing Network installations, click on OK from the main Network panel.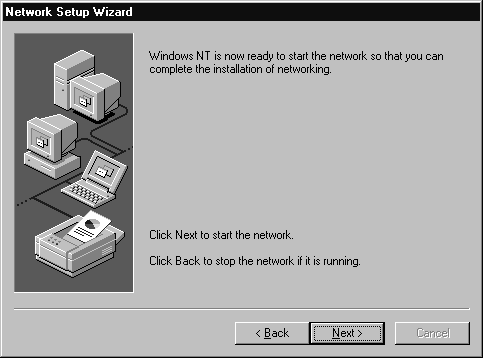 Just click on Next until the installation finishes.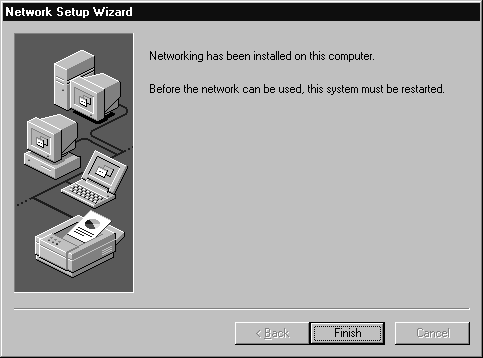 Click Finish and restart your computer.


---
Chapter Five


---

Set Up Dial-Up Networking

---
Before using your ISDN*tek card to make a call, you will need to set up a phone book entry, or number to call.The path from the Start Button is Start, Programs, Accessories and, finally, Dial-Up Networking.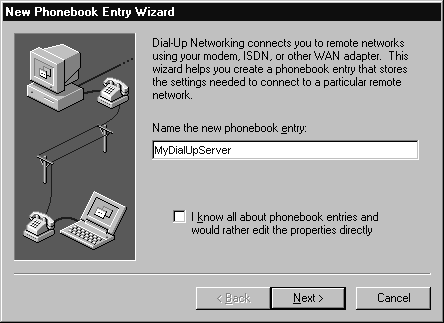 Enter data and click Next.



Select all that apply in the Server window and click Next.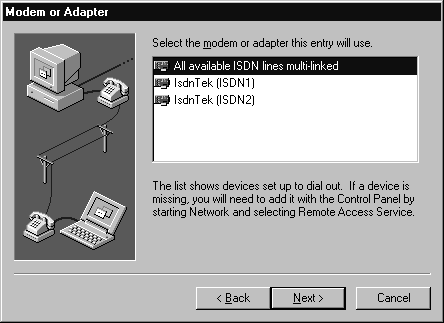 You may choose at this point to do multi-link for 128kbps, or just a 64kbps single-channel call. remember that you can always come back to Dial-Up Networking and create more Dial-Up connection profiles; one for each Internet provider or remote LAN Connection.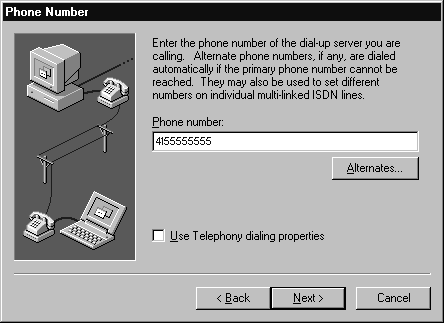 Enter the number you will dial into here.
Click Next.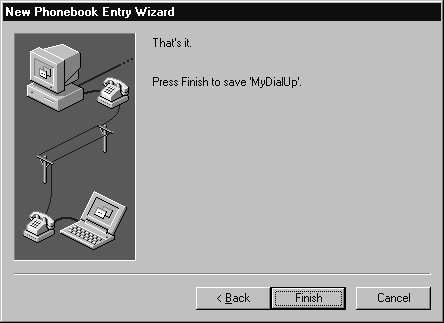 Click on Finish to save your phonebook entry.



Congratulations, now you are ready to dial into the network!
---
---

Appendix A

---
Hardware Specifications
General Board Specifications
Bus: Standard ISA, EISA, or compatible.
Slots: 1
Size: 4.8" high x 6.3" long (6.5" with bracket) (fits regular and low profile slots).
Weight: 5 oz. (0.22Kg)
Power consumption:
(S card): 5 volts @ 153 mA max (100mA typ).
(U card): 5 volts @ 221 mA max (140 mA typ)
Voice option):± 5 volts @ 15 mA max (10 mA typ)
Bus Load: Less than 1 TTL load/bus line.
Addressing: Any 4K byte memory block in the first megabyte of RAM. Switch selectable.
Interrupt: Requires one Jumper selectable IRQ: 3,4,5,6,7,9,10,11,12,14,15
Computer Requirements
CPU: 386 (or newer) compatible computer (33 MHz or faster recommended).
Slot: ISA or EISA slot (regular or low profile).
Disk: Hard Disk recommended.
Monitor: EGA, VGA, or better.
Input Device: Mouse or pointer that is functional in Windows.
Operating System: Windows 3.1 or greater, Win95, Windows NT, or WinOS/2 2.1 or greater
S-interface Electrical Specifications
Min Primary Open Circuit Inductance: 21 mH
Max dc resistance (primary): 2.2 ohms
Max primary leakage inductance: 20 mH
Max interwinding capacitance: 20 pF
Voltage breakdown (primary:secondary): 1500 VAC
Nominal Frequency: 192 Kbps
Termination resistance: 100 ohms or none
Meets ITU/CCITT recommendation: I.430
U-interface Electrical Specifications
(ANSI standard T1.601-1988 compatible)
Mid-Band Attenuation at 40 KHz: –1.50 dB
Total Harmonic Distortion: –62.0 dB
Common Mode Rejection at 40 KHz: 60.0 dB
Return Loss at 10 to 25 KHz: 20.0 dB
DC-capability: up to 50 mA
Isolation Voltage: 2000 Vrms
Surge Voltage Resistability:
Metallic at 800 Volts Peak: 10/700 usec
Longitudinal at 2400 Volts Peak: 10/560 usec
Meets FCC part 68 ac breakdown requirements
Environmental Specifications
Operating Temperature: 0°C to 70°C
Storage Temperature: -40°C to 110°C
Relative Humidity (non-condensing): 0 to 95%
---
---

Appendix B

---
FCC Statement
This equipment has been tested and found to comply with the limits for a Class B digital device, pursuant to Part 15 of the FCC rules. These limits are designed to provide reasonable protection against harmful interference in a residential installation. This equipment generates, uses and can radiate radio frequency energy and, if not installed and used in accordance with the instructions, may cause harmful interference to radio communications. However, there is no guarantee that interference will not occur in a particular installation. If this equipment does cause harmful interference to radio or television reception, which can be determined by turning the equipment off and on, the user is encouraged to try to correct the interference by one or more of the following:
Re-orient or relocate the receiving antenna.
Increase the separation between the equipment and receiver.
Connect the equipment into an outlet on a circuit different from that to which the receiver is connected.
Consult the dealer or an experienced technician for help.
Standard shielded cables and I/O cords must be used for this equipment to comply with the relevant FCC regulations. Changes or modifications not expressly approved in writing by ISDN*tek may void the user's authority to operate this equipment.
Company:ISDN*tek
This device complies with part 15 of the FCC Rules. Operation is
subject to the following two conditions: (1) this device may not cause
harmful interference, and (2) this device must accept any interference
received, including interference that may cause undesired operation.
---
---

Appendix C

---
Limited Warranty
ISDN*tek warrants to the original owner that the product delivered in this package will be free from defects in material and workmanship for one year following the date of purchase - but only if you register by returning or faxing the registration card as indicated. This warranty does not cover the product if it is damaged in the process of being installed. ISDN*tek recommends that you have a qualified service technician install this product.
The above warranty is in lieu of any other warranty, whether express, implied, or statutory; including, but not limited to, any warranty of merchantability, fitness for a particular purpose, or any warranty arising out of any proposal, specification, or sample. The User must determine if this product is suitable for any given application. ISDN*tek cannot warrant the suitability of this product for any specific application other than connection to the Internet through National ISDN 1 and for voice calls using a telephone handset. The CyberSpace Commuter Card is a digital product and will only provide voice capabilities through an approved handset or headset, not through an analog (POTS) telephone. It is not an analog modem and it can not communicate with an analog modem.
This warranty does not cover replacement of products damaged by abuse, accident, misuse, neglect, alteration, repair, disaster, improper installation, or improper testing. If the product is found to be otherwise defective, ISDN*tek, at its option, will replace or repair the product at no charge except as set forth below, provided that you deliver the product along with a return material authorization (RMA) number (see below) either to the company from whom you purchased it or to ISDN*tek. If you ship the product, you must assume the risk of damage or loss in transit. You must use the original container (or the equivalent) and pay the shipping charge. ISDN*tek may replace or repair the product with either a new or reconditioned product, and the returned product becomes ISDN*tek's property. ISDN*tek warrants the repaired or replaced product to be free from defects in material and workmanship for a period of the greater of 90 days from the return shipping date or the period of time remaining on the original one year warranty.
This warranty gives you specific legal rights and you may have other rights which vary from state to state. All parts or components contained in this product are covered by ISDN*tek's limited warranty for this product; the product may contain fully tested, recycled parts, warranted as if new.
Before returning any product, contact the ISDN*tek Customer Service Group at the main telephone number, to obtain an RMA number. If the Customer Service Group verifies that the product is defective, they will have a Return Material Authorization number issued to you. This number should be placed on the outer packaging when returning the product. ISDN*tek cannot accept any returned product without an RMA number on the package.
Limitation of Liability and Remedies
ISDN*tek shall have no liability for any indirect or speculative damages (including, without limiting the foregoing, consequential, incidental, and special damages) arising from the use of or inability to use this product, whether arising out of contract, negligence, tort, or under any warranty, irrespective of whether ISDN*tek has advance notice of the possibility of any such damages, including, but not limited to loss of use, business interruptions, and loss of profits. Notwithstanding the foregoing, ISDN*tek's total liability for all claims under this agreement shall not exceed the price paid for the product. These limitations on potential liabilities were an essential element in setting the product price. ISDN*tek neither assumes, nor authorizes anyone to assume for it, any other liabilities.
Some states do not allow the exclusion or limitation of incidental or consequential damages, so the above limitations or exclusions may not apply to you.
Copyright, Trademark, Patent & Warranty Information
Please read before copying the CyberSpace Card Installation Manual.
The CyberSpace Card Installation Manual dated 03/01/98 contains information related to products and services of ISDN*tek. Contents are provided as a courtesy to ISDN*tek's customers and potential customers. By accessing, copying, or using any information contained in this HTML/online manual, you agree to be bound by the terms and conditions described in this Legal Notice.
Copyright Notice
The documentation contained in this HTML/online manual is owned and copyrighted by ISDN*tek. Copyright © 1998 ISDN*tek, PO Box 3000, San Gregorio, CA 94074, USA, all rights reserved.
License to Copy Information
You are licensed to copy documentation from the HTML/online manual provided you agree to the following terms and conditions.
You may use the materials for informational, non-commercial purposes only.
You may not alter or modify the materials in any way.
You may not use any graphics separate from any accompanying text.
You may distribute copies of the documentation available only to customers and potential customers of ISDN*tek products. However, you may not charge them for such use. Any other distribution to third parties is prohibited unless you obtain the prior written consent of ISDN*tek.
You may not use the materials in any way that may be adverse to ISDN*tek's interests.
All copies of materials that you copy from this HTML/online manual must include a copy of this Legal Notice.
Failure to comply with these terms and conditions will terminate the license.
Other Intellectual Property Rights
ISDN*tek, CyberSpace Freedom, CyberSpace Card, CyberSpace Machines, "the Interface to CyberSpace", PC*TE, CyberSpace Internet, CyberSpace Commuter, CyberSpace Enterprise, and other names of ISDN*tek products, product features, and services are trademarks and/or service marks of ISDN*tek in the United States and other countries. Other product and company names mentioned in this HTML/online manual may be the trademarks of their respective owners.
Nothing contained in this legal notice shall be construed as conferring by implication, estoppel, or any other legal theory, a license or right to any patent, trademark, copyright, or other intellectual property right, except those expressly provided herein. The products, processes, and other technology described in this HTML/online manual may be the subject of other intellectual property rights owned by ISDN*tek or by third parties, and no licenses are granted herein.
Disclaimers
No warranties: the documentation provided is "as is" without any express or implied warranty of any kind including warranties of merchantability, noninfringement of intellectual property, or fitness for any particular purpose. In no event shall ISDN*tek or ots suppliers be liable for any damages whatsoever (including, without limitation, damages for loss of profits, business interruption, or loss of information) arising out of the use of or inability to use the documentation provided in this HTML/online manual, even if ISDN*tek has been advised of the possibility of such damages. Because some jurisdictions prohibit the exclusion or limitation of liability for consequential or incidental damages, some of the above limitations may not aply to you.
ISDN*tek further does not warrant the accuracy or completeness of the information, text, graphics, or other items contained within this HTML/online manual. ISDN*tek may make changes to these materials, or to the products described therein, at any time without notice. ISDN*tek makes no commitment to update this documentation.
Copyright © 1998 ISDN*tek, PO Box 3000, San Gregorio, CA 94074, USA, all rights reserved.
By using any information in this HTML manual, you agree to be bound by the terms of ISDN*tek's Legal Notice.