---
U.S. Postal Customs Forms
---
Home ShipScript News Download Order [ Clic*Pic] [ Rag*Tag] [ Rain*Bow]
---
Notice: this page is in development and may contain errors.
Postal Forms
There are two types of US postal customs forms. They can be picked up at the postal counter or can be ordered free online.
a single green sticker with a detachable white stub (2976),
and a five-part white form (2976-A) that slips into a clear adhesive envelope (2976-E).
Postal customs forms are currently used on three groups of mail destinations: International mail, Military Mail, and the US possession of Guam.

Packages with customs forms must be delivered to a postal window clerk for processing, and can't be dropped in a collection box. The declared value that you enter on the customs form can be different than the insured value. It will be used by the destination country's customs service, in conjunction with other information, to levy duties on the recipient.
Which Form to Use
For simplicity, we will assume that all mailings are products and not correspondence. This table will give you a general idea of which form to use on each type of package, although specifics may change based on destination country.
Service
Green Tag 2976
White Form 2976-A
Global Express non-document
Global Express Mail (EMS)
Global Priority Flat-Rate Envelope
Global Priority Variable weight pkg
Non-dutiable items
(little or no value)
Dutiable items
Intl Airmail Letter Post and
Intl Economy (Surface) Letter Post
Less than $400 value
Value is $400 or more
White form inside package and
top part of green sticker outside.
Intl Air & Surface Parcel Post
All packages
Guam and Military mail
(all mail classes)
Less than 4 lbs.
4 lbs. or more
Completing the Forms
Green Sticker 2976
Since the green sticker is used on low-value shipments under $400 (there are some destinations where the limit is lower), it has very few fields to complete. The green portion is attached to your package and the post office will retain the white informational stub containing the contact information.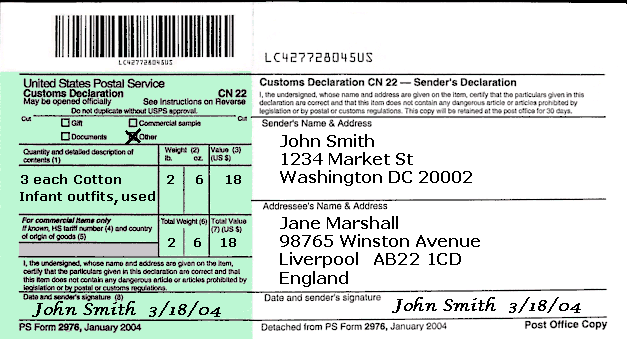 Checkboxes: eBay shipments are commercial sales and will not fall under any of the non-dutiable checkboxes. Therefore select the "Other" checkbox.

Item quantity-description(1) | weight(2) | value(3): List the quantity and describe the item as completely as possible. Enter the net weight and customs value of each "different" type of item in the package.

Total weight(6) | value(7): On the next line, enter the total shipment weight that will be used for postage, and enter the customs value. The customs value does not need to match the insurance value, but should match your eBay invoice (do not include insurance, shipping, or handling in this value).

Tariff Number(4) | Origin(5): The HS tariff number is difficult to determine and is optional, so most users will leave the field blank. But if you already know that number, it will speed customs processing at the other end. If you know the country of origin ("Made in xxx" on the product), it is helpful to add that in the space provided, since it may reduce duties at the other end.

Signature(8): Sign and date the form and take the package to a postal clerk. You are certifying that the information on the form is correct and that the package doesn't contain dangerous or illegal items.

Commercial Invoice: You should include a copy of your invoice inside the package. Packages are often opened by customs inspectors, to verify the contents and value.

Copies: The post office won't provide a receipt or copy of the green customs tag.

White Form 2976-A
The white form is more comprehensive, collecting more detailed information about the shipment. You will need to provide complete shipper and recipient address information. To the right of the addresses are additional fields for more recipient data. We have grayed out the areas that are either optional information or are for the postal clerk.
Insured Number | Amount | SDR: You may copy the number off your insurance tag, or leave it for the postal clerk to complete. Enter the amount of insurance you wish to purchase. The postal clerk will complete the SDR (Special Drawing Rights), which is the international rate of exchange for the insurance.

Importer's reference | Phone/fax: these fields are optional. Most buyers will not have importer IDs, so the field is only completed if the buyer provides you with the info. The contact info will speed up processing if there are customs or delivery problems. This info is commonly supplied for corporate recipients, but most individuals do not want that information published on the front of a shipment.

Description(1): The description should include enough information that customs can properly classify the item. A good description means customs is less likely to open the package to classify it. Each different type of item should be listed separately, but similar items can be grouped.

Qty(2): List the quantity of similar items.

Net Weight(3): The approx net weight of the item, or group of items, before packaging.

Value(5): Enter the value for each line item. The value should match that listed on your eBay invoice, without shipping, insurance, or handling fees.

HS Tariff(7): Optional. The Harmonized System tariff number is used by our government to quantify our nations total exports, and is used by the destination country to assign a tariff rate to the import. Providing this number means the importing customs official does not need to rely on the item description to determine the duty, thus speeding customs clearance. This number is optional here, and only becomes a requirement when the value exceeds $2500. More info.

Country of Origin(8): Optional. Import duties often take into account where an item is manufactured, as some countries are given preferential treatment. If your item is marked with this information (ie Made in China), list the country. If you don't know, don't guess. Canada, Mexico, and the US share preferencial import status under NAFTA (North American Free Trade Agreement) for goods manufactured in these three countries. To benefit under NAFTA, a certificate of origin should included in the customs sleeve.

Ship Method Checkbox: Select whether your shipment is by air or surface.

Gross Weight(4): This is the total shipment weight that will be used for postage calculations.

Total Value(6): The value should match the total listed on your eBay invoice(s), without shipping, insurance, or handling fees.

Postage and Fees(9): If you are accustomed to tallying your postage fees, you may enter that data, or leave it for the postal clerk to complete.

Dutiable Checkboxes(10): If your shipment is non-dutiable, check the reason why. eBay sales are dutiable and will fall under the "Other" category.

Comments(11): Plants, soil, animals, food, or other items that may pose a contamination or infestation threat should be noted. If you are enclosing a decontamination certificate, that should also be noted.

License Numbers(12): Some items are restricted for export and may require an export license. The commodity control number or general license symbol is entered here, and the symbol limits the dollar amount that can be shipped without a license. "GDEST" (general destination) or "GLV" (general license value) is used for unrestricted items.

Certificate(13): If an export license was obtained, the certificate number is entered here.

Invoice(14): Enter your invoice number or auction number here. The number should match the number on the invoice forms you enclose with your shipment.

Signature(15): Sign and date the form and take the package to a postal clerk. You are certifying that the information on the form is correct and that the package doesn't contain dangerous or illegal items.

Non-delivery Instructions(16): Select the disposition of your package if it cannot be delivered. Return charges may apply if the original fees were underpaid or if the destination country levees additional return fees. At this time, the USPS does not surcharge for returns.

Commercial Invoice: Your commercial invoice should contain much of the same information requested by this form. Specifically, include seller and buyer names and addresses, complete item descriptions and values, and total invoice amount, with shipping as a separate item. The invoice is also a good place to include additional contact information such as phone, fax, or email. The invoice may be an eBay or Paypal invoice and may include a copy of the eBay auction as proof of value and further product description. One copy should be placed inside the package and another copy should be inserted in the shipping sleeve behind the customs form. All these forms will add at least another ounce to your package, which you will be required to include in your postage.

Copies: Unlike prior versions, the last copy of the customs form is for the shipper.

Resources
---
Home ShipScript News Download Order [ Clic*Pic] [ Rag*Tag] [ Rain*Bow]
---
<! ---------------------- begin footer ---------------------------->




These logos are registered trademarks of FedEx, United Parcel Service, and the U.S. Postal Service
and their inclusion does not constitute an endorsement by these companies.

ISDN*tek &nbsp•&nbsp PO Box 3000 &nbsp•&nbsp San Gregorio CA 94074
Tel: 650-712-3000 &nbsp•&nbsp Fax: 650-712-3003
web: www.isdntek.com
email: send email to us
Copyright ISDN*tek 2002-2004

<! ---------------------- end footer ---------------------------->