1. To make sure we REALLY clear the Internet Explorer cache, we will start by Closing ALL browser windows. (These are screenshots from XP. Other operating systems may look a little different.)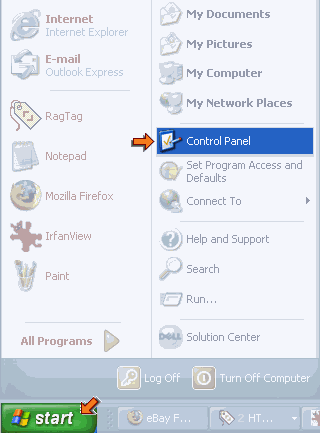 Open the Control Panel. We will access your cache from the control panel to ensure we get a clean sweep. Open it from the "start" button on the bottom status bar. Then click on "Control Panel" in the start menu.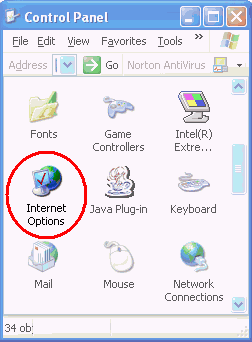 The Control Panel will open in a new window, where you can locate and click on the icon for "Internet Options".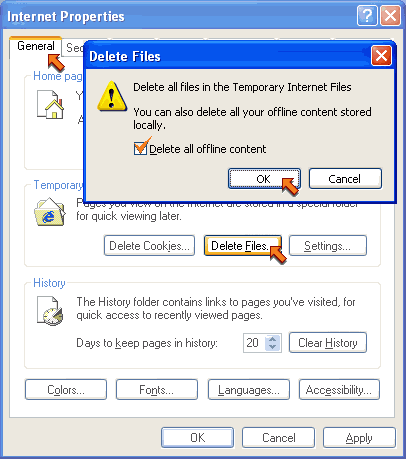 2. The first "General" tab will be showing. (In the middle of the screen you will also see "delete cookies". That is where you would delete cookies if requested to do so. We are not requesting it at this time.)
3. Also in the middle of the "General" tab screen is a button to "Delete Files". That is your cache or temporary internet files. When you are asked to clear your cache, that is the button to use. We will clear the cache now, and on the popup is a box that you should checkmark to "delete all offline content", then click OK.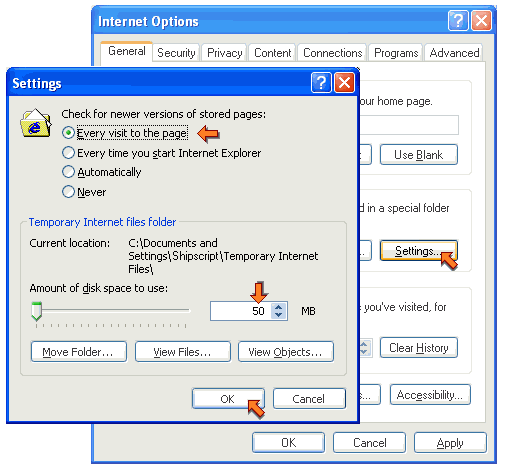 4. The Internet Explorer cache has a bug that can cause problems for eBay users. To avoid the problem, click the "Settings" button on the "General" tab. A new window will open with the settings for your temporary internet files or cache. Set the size of your cache to 50MB or less, and also checkmark the box to check for new pages with "every visit to the page".


Different Browser?
Instructions here:
http://www.bulls2.com/indexb/cache2.html