FTP with Internet Explorer
Internet Explorer has its own built-in FTP client, and many FTP hosts allow you to log in using a simple command line in your browser. Just substitute your own information in the sample below and paste it into your browser address line:

ftp://username:password@ftp.myhost.com

Your FTP space opens up in a browser window and looks like any other folder on your desktop, allowing you to drag files back and forth between folders and your web browser.


Bookmark to Favorites
If you want to bookmark the link, you can leave off the password, and you will be prompted for it by the browser.
ftp://username:@ftp.myhost.com


Email address to log in
What if your host requires your entire email address to log in? In that case, there will be an extra @-sign that can't be used in the address line. Instead, substitute %40 for the @-sign that is within your log-in name. Your address line will look like this:
ftp://username%40myhost.com:password@ftp.myhost.com


Separate Windows
Some users have difficulty opening multiple screens to drag files between them, and that is due to a browser setting that reuses the same window over again. If you would like to have multiple browser windows open at one time, then look for this setting in the Internet Explorer Menu:
Tools > Internet Options > Advanced tab >
and uncheckmark "reuse windows for launching shortcuts"
See screen shot below.


Can't Drag/Drop?
If you have the latest browser and it won't let you drag and drop, it could be due to a security setting that can be changed:
Tools > Internet Options > Security tab >
under the Globe, click the "custom level " button
and enable "Drag and drop or copy and paste files"


Transfer Failed
Some websites and some broadband don't work with "active FTP", where computer and server negotiate what ports to use. They require "passive FTP" where only one side can decide on the ports. If you can't log in, you can change Internet Explorer's setting in:
Tools > Internet Options > Advanced tab >
and checkmark "Use Passive FTP (for firewall and DSL modem compatibility)"
See screen shot below.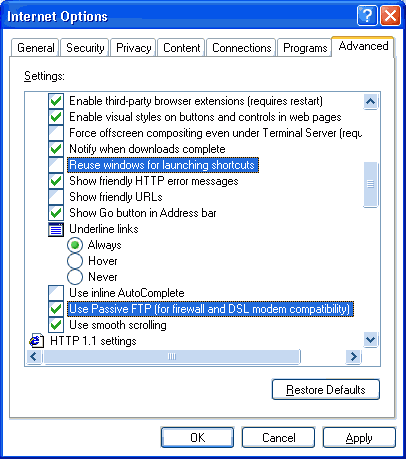 courtesy of shipscript


copyright 2004 -2006 © www.isdntek.com/etools.htm