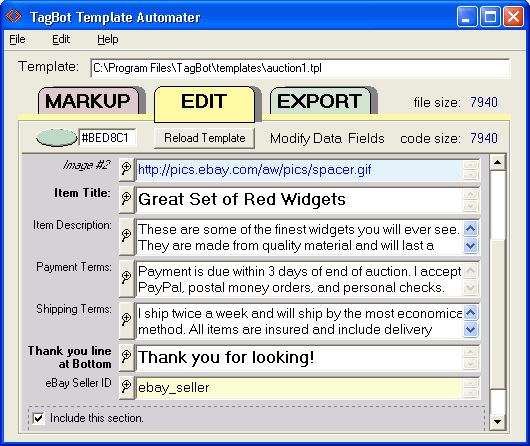 TagBot is a small desktop program that will make it easier to update and maintain the content in your auction templates.
TagBot provides three levels of use.
1. Easy - I Don't want to edit HTML. For beginners and users who don't want to guess what HTML codes can be changed, TagBot includes built-in templates from several professional designers. Simply fill in the blanks with your auction text and the program will process a lovely auction for you.
2. Intermediate - I have my own template and know some HTML. Tag your own auction template to display only the content that you want to change on a regular basis. No more wading through reams of HTML codes to change descriptions, photos, or colors.
3. Advanced - Designer Level. Designers can now deliver templates to users that are tagged to be run through TagBot. The program will hide the raw HTML from the user and make it easier and safer for users to edit their auctions without accidentally deleting codes. Reduces service calls and user problems. Since the program passes through all HTML comments, the output of the program can still look like the code you have always delivered.
How does it work? Look here for a more detailed overview of TagBot.
Bonus Templates!
Special templates create Scroll-galleries for displaying multiple photos. Drop in your photos and add your captions, and the code is ready to run!
Special templates create Cross-sell galleries to drive business to your other items. Add auction links and your captions. Because the captions are stored inside the code, they do not violate eBay keyword spamming.
Special templates create a variety of standard seller Button Links that you can paste into your auctions.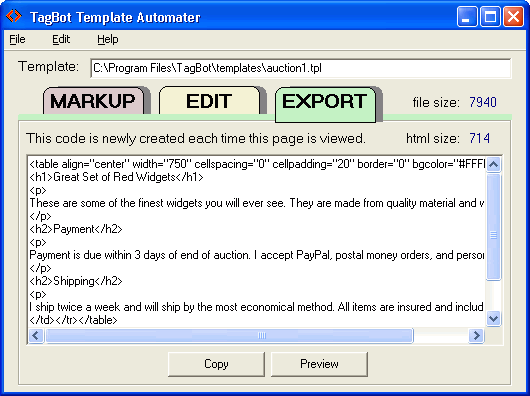 Free Download. You will download an installation file that will install TagBotTM in a directory on your hard drive.
By downloading this file you agree not to distribute this program, but you may refer others to this location.
There are no hidden attachments, adware, or spyware in any of our site downloads. We do not deliver "payloads" for advertisers — we know you don't want them, and neither do we.


program only - v1.04.01
without Templates or Tiles (568K)
updated 01 Feb 2008




Templates & Tiles for TagBot
without Program (661K)
updated 11 Dec 2007



Web TagBot - (online version)
Want to see TagBot in action? A web-based version supports most of the features of the desktop program and can be used on Macs as well as Windows computers (a common request). So go ahead and test drive Web TagBot and try out of few of the premade templates while you are there. Have fun and test your skills as a Tagger (designer) or as a Reader (template user).
Be sure to pick up additional TagBot Templates here or on the Web TagBot page.
System Requirements
Desktop PC Running Windows.
Note: Vista, Win7, Win8 users must install to desktop, not to Program Files.
Note: 64 bit systems may encounter error messages after installation. See solution on right.
For older Windows (Windows 98, NT, 2000, XP, etc) the system file MsVbVm60.DLL must be on your computer. Locate it from the start menu ....


Start>Find>Files or folders
Named: MsVbVm60.DLL
Look in: Drive C: or all hard drives.


If the program does not run or if you have not found the Microsoft System Files on your PC, you may download them here. These files will be placed in your WinNT\System32 (or Windows\System) directory if they do not already exist there.