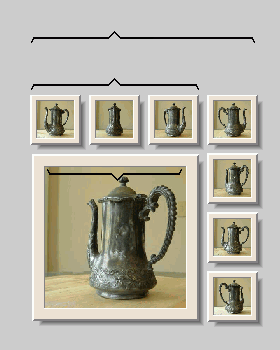 Clic*Pic Deluxe Online
Create self-organizing Photo Galleries
using your prehosted online photos.

Add your prehosted photos in the first box. You may include basic URLs or full HTML image codes. Every image that is found in the code can be used in the gallery, so if your code includes both thumbnails and large images, like click-to-enlarge code, they may both be available.




Use the drop list to select and display only the larger of duplicate images. Or display all the photos and checkmark the ones you would like to use. You may then add captions to your found photos.




Select the styles for your gallery. Choose how many thumbnails wide the gallery will be and set the size of the large photo. The thumbnail images will be sized accordingly. Play around with the other parameters to style the picture frames, bevels, and drop-shadows. Set the colors for the gallery elements (remember to move the brightness slider down from white to see a selected color on the color palette).




Click the MAKE button to view your changes and to make the code that you can copy and paste into your page. Or use the Auto Arrange button if you want the tool to attempt a balanced arrangement.




Copy the code and paste into your page. Each code is indexed so that you can use more than one gallery on the same page.



Fetch photos from an ebay listing number or URL:
Add Photos
Paste bare URLs or normal image codes (the tool will find images in the code):
Background color
A background color can be set for your gallery in order to colorize the shadows, and the background is painted in the popup preview for your convenience. However, the background is not set in the gallery code because it is assumed you will place the code on your page that already has a background color or texture. The page color used to create the gallery shadows is displayed near the top of the code.

Magnification
When including the image magnifier, be careful that the visitor can navigate from a thumbnail to the large image. If multiple rows or columns must be traversed, consider switching to a clickable thumbnail rather than a hover-over thumbnail. Alternatively, use a layout that is no more than one thumbnail deep around the large image.

Replacing photos
The photos in the resulting code can be changed to create different galleries. However, the number of photos should remain the same or should not exceed the number printed above the image list in the code. Using a different number of photos may result in an unpredictable gallery shape. Return to this tool to create other gallery configurations.
courtesy of eBay user shipscript


copyright 2009-2012 © www.isdntek.com