The templates at a glance Over the past year, board members and template designers have been contributing free templates to our seasonal template threads. A thumbnail view and link for each of these free templates can be found on one of these summary pages, and new ones will be added as they are posted. Members are welcome to pick up these templates and use them in their auctions (please read the terms of use on each).

Christmas/Holiday
http://www.isdntek.com/demo/holiday/templates.htm

Spring/Summer
http://www.isdntek.com/demo/spring/templates.htm

Fall/Winter
http://www.isdntek.com/demo/fall/templates.htm

Mini Templettes
http://www.isdntek.com/demo/templette/templates.htm

About


http://www.shipscript.com/workshop/ME_templates.htm

There are also many online template form filler sites, where you can pick a template style and simply fill in the blanks on the form to add your auction data.

Online Template Makers
http://www.isdntek.com/demo/onlinetemplates.htm


---
To use one of these templates, click on the thumbnail image, which will open a page to display the HTML code. Most of the templates will have instructions embedded in the code, explaining where to add your text or photos. Some will merely have sample text and photos that you can replace.

Replace any sample text with your own auction text in the code window, and add any image codes there. Then copy and paste the entire code into the HTML code view of the listing form. When you flip back to the Standard tab, your auction should appear, and you can use eBay's editor toolbar to further modify your text.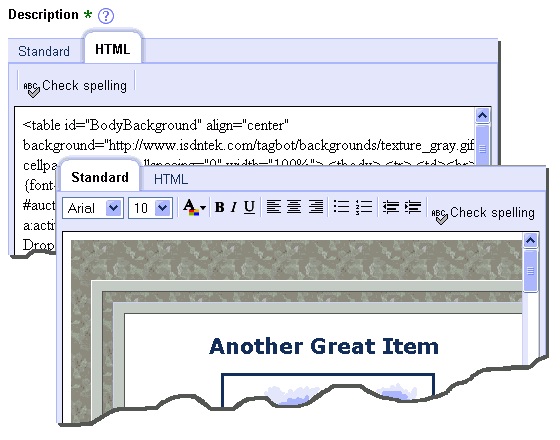 Basic Copy/Paste instructions are in the ••Tips•• thread at the top of the eBay HTML forum.

Basic Copy/Paste/Clipboard
http://forums.ebay.com/db2/thread.jspa?threadID=1000088663#tipsnotepad

If you would rather work offline, then copy and paste the contents of the code window into a Notepad document. Choose a name that ends with .htm and save the file. It can then be reopened in your browser for previewing, or you can right-click the file in your folder and "Open With" Notepad for editing.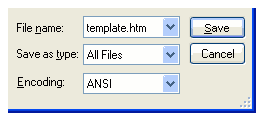 If you are not comfortable working in and around the HTML codes, you can copy and paste the entire code into the Code View tab of the Online Editor. Flip back to the Editor tab to change your text and add your hosted images, using the Word-like toolbar options. After making all of your modifications, switch back to the Code View tab and copy the code into your auction.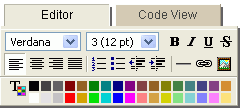 Online Editor
http://www.isdntek.com/editor.htm

---
courtesy of eBay user shipscript


copyright 2005-2012 ©www.isdntek.com