The CyberSpace Commuter Card

The CyberSpace Commuter card has been designed to provide a fully digital telecommuting solution. The Commuter card supports both B-channels of the ISDN connection, which can be used for voice and data or for up to 128K bps of data. It retains all the features of the Internet card, in that it can support a 56K to 64K data call on either B-channel, while data on both B-channels can be aggregated to 128K bps using appropriate Multilink-PPP (MP) software. The card continues to support Internet access software and to communicate with Internet routers.
The distinctive feature of the Commuter card is voice call capability. This unique feature allows you to discuss a file transfer or whiteboard operation over a B-channel voice call while your PC is sending data over the other B-channel of a single ISDN phone line. The voice and data calls are independent of each other and can have different destinations. Successive voice calls can be placed and terminated without disturbing an active data call, and vice versa.
Another key feature of the Commuter Card is its ability to uncouple the Layer 3/Network protocol -- a unique characteristic that allows OEMs to control user layer 3 with their existing ACD software with minimal adaptations to their application. This element is ideally suited for multiple-OEM endeavors.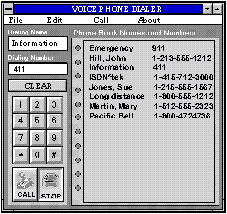 Not to be confused with analog voice service, the commuter card takes advantage of the stability and clarity of ISDN on both voice and data calls; and by allowing use of a standard headset or handset, eliminates the need to purchase an expensive digital phone set. The telephony functions normally found on the telephone keypad are handled by the supplied dialing application running on the computer. The standard desktop phone is eliminated, reducing clutter. The telephone line can be configured so that when the computer is not powered, incoming calls can automatically be routed to a telco-maintained voice mail system or back to the corporate office.

A typical Commuter Card business application could involve a remote or home-based agent who has a single ISDN BRI line installed. The agent might typically receive customer voice calls. While on the voice call, the agent may simultaneously access the corporate database over a 64K bps data connection. This multi-function, single-line feature provides businesses with the added advantage of simplified accounting of home-based employee lines.

The Commuter Card requires either a standard handset or an amplifier equipped headset to support voice. It is a 100% digital ISDN product and does not have an analog phone port and does not support fax, modem, or analog phone sets. It does however include the ability to send touchtones for accessing automatic call distribution (ACD) and credit card data entry equipment.
The CyberSpace Commuter card requires an external NT1 and can be used with other ISDN equipment.
The CyberSpace Commuter+Plus card includes an on-board NT1, which can be connected directly to the phone company's wall jack. Using this configuration with a headset eliminates all other external equipment such as an NT1 and desktop phone set and dedicates the ISDN line to this card.
What else will it do?
The Commuter card supports both encapsulated data and streaming data. While encapsulation is the more common method of sending data over ISDN, streaming data allows digital voice to be captured to a disk file while it is being sent or received. The card will support WinISDN compatible answering machine application software as it becomes available, so that you can record and play back voice streams from either the caller or the called party.

Computer Telephony Magazine Editors' choice
CyberSpace Commuter Card Features
PC (ISA-bus) hardware.
Windows drivers.
One 56K/64K data call over each B-channel.
128K data call over two B-channels.
Voice call over one B-channel.
Simultaneous Voice and Data calls over the two B-channels.
Sends Touchtone DTMF while call is active.
Streaming data mode for rerouting voice.
Voice capture mode for aswering machine applications.
Versions for "S" or "U" ISDN connections.
Four-wire Headset or Handset compatible voice jack.
Compatible with Internet Software and routers.
---
Copyright ISDN*tek 1995-2000