CyberSpace Freedom™ Card Technical Specs

The CyberSpace Freedom Series provides a dependable, award-winning hardware connection between your (TCP/IP - PPP) software and an Internet access point or another TCP/IP equipped computer, using worldwide ISDN for fast, reliable communications. The half-size PC card slips into your (E)ISA PC-bus and includes the phone cable to connect directly to the NT1 or jack on your wall. The card is provided with "WinISDN" driver software on 3.5" diskette and with installation and setup software that runs on Windows PCs. The CyberSpace Freedom™ Card supports virtually all Basic Rate ISDN found in the U.S. today. Whether for home or office, the CyberSpace Freedom™ Card is your most reliable Interface to CyberSpace.
The Hardware
Reliable PC-based interface to ISDN.
Low profile, half-size ISA-card is easy to install.
IBM PC/AT ISA or EISA bus interface.
Single Jumper-selectable interrupt (IRQ-3...IRQ-15).
Switch selection of ISA-bus address.
4K byte on-board memory can be any block in 16Mbyte address space.
Setup program assists in installation, switch setting, and troubleshooting.
FCC part 15 class B certified for home or office use.
Not recommended for computers faster than 500 MHz.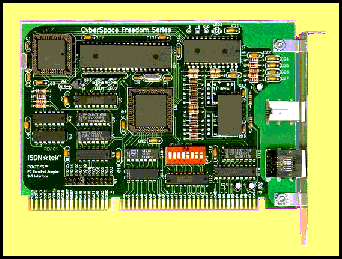 The ISDN connection
Auto-detects and works with virtually any U.S. ISDN Basic Rate line available.
Proven as the fastest ISDN connection (Network World, April 3, 1995).
Integral ITU (CCITT) Q.931, Q.921, and I.451 support.
Approved by Northern Telecom and Bellcore.
Basic Rate ISDN interface (2B+D, 2B, 1B, or 2B+s).
Preset 100 ohm line termination resistors are jumper removable.
Diagnostics report ISDN Layer 3 messages to user.
Supports 56Kbits/sec to 64Kbits/sec data call on either B-channel
Uncompressed data throughput is an amazing 94% of bandwidth compared with only 72% for COM port dependent ISDN products!
Voice product additionally supports a single voice call on either B-channel
Two-channel data product is 128K-ready for MultiLink PPP (MP) software.
"Standard" series uses 8-wire RJ45 connector to "S/T" jack of external NT1.
"Plus" series uses 6-wire RJ11 connector to "U" jack using onboard NT1.
Voice product uses 4-wire handset connector for headset or handset.
"Plus" series 2B1Q U-interface conforms to ANSI T1.601-1988 @ 18,000 ft maximum distance.
"Standard" series S/T-interface conforms to ITU/CCITT I.430 @ 1,000 ft maximum distance for a single device on the ISDN line.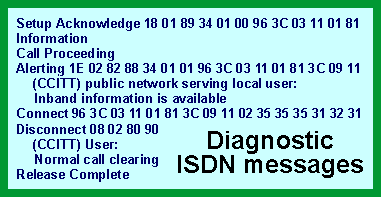 The Driver Software
The WinISDN.DLL driver supports synchronous PPP (Point-to-Point Protocol) and HDLC from the Windows-based TCP/IP stack above.
Works with Service Provider's ISDN routers when used with any WinISDN-based PPP software or Microsoft's (NDIS/WAN) Dialup Networking.
Supports FTP, Ping, E-mail, Gopher, Mosaic, etc, when used with appropriate TCP/IP software.
Driver support for Peer-to-peer connectivity, messaging, file transfers, streaming data, and voice connections.
Voice product includes dialer/phonebook mini-app.
Easy interface to driver from Visual Basic or C programs.
Software Developer's Kit available.
Win95/98 and NT4 RAS drivers support Microsoft Dial-up Network.
Compatible Software
Application Software
All WINSOCK applications (such as web browsers and email software) will work on the below-mentioned TCP/IP stacks. A list of application software can be found at:
The Ultimate Collection of WinSOCK application software
TCP/IP Stacks
TCP/IP stacks that run on ISDN*tek hardware and support standard web browsers:
Windows 3.x
Netmanage Chameleon NFS and Internet Chameleon
FTP Explore OnNet
Frontier SuperHighway Access
Shiva ShivaPPP Adapted to WinISDN
Traveling Software with ShivaPPP
Windows 95/98
Microsoft's Dial-Up Networking
Windows NT
Microsoft's Dial-Up Networking
Compatible Hardware
at other end of the ISDN connection:
3Com/AccessWorks
AdTran
Ascend
Cisco/Combinet
CoSystems
DigiBoard
Farallon Computers
Flowpoint
Gandalf
IBM
Intel
ISDN*tek
JRL Systems
KNX
Microsoft
Motorola
MPX
Network Express
NetCS
Novell
Shiva
Silicon Graphics, Inc.
Skyline Technology
Stagecoach
US Robotics/ISDN Systems
Xyplex
... and many others
The Service
One year limited warranty on hardware.
Download information and updates from the Internet.
International Markets
USA: The CyberSpace Series is FCC part 15 Class B certified for home or office use.
CANADA: The CyberSpace and "Plus" Series have completed CSO3 testing for Canada. Certification is pending.
JAPAN: A JATE-certified Japanese version of the CyberSpace Internet Card is currently shipping.
ISRAEL: A certified Israeli version of the CyberSpace Internet Card is currently shipping.
The Company
ISDN*tek has been developing ISDN technology since 1987 and has been delivering ISDN equipment worldwide since 1990. Forming strategic partnerships with industry leaders has assured a strong and growing presence in the market. The CyberSpace Freedom™ Series takes advantage of this solid foundation to provide the highest quality PC-to-ISDN Basic Rate access available today.
---
Copyright ISDN*tek 1995-2000